John (JC) Chalk - Rebuilder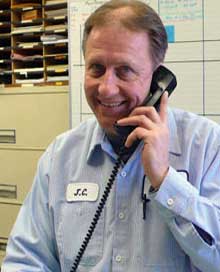 JC is "the man" when it comes to Dodge trucks. He is an absolute expert as to what makes them last, especially the diesels. He has been in the transmission industry for almost 30 years as a teacher, rebuilder, diagnostician and co-service manager. He "knows transmissions" and 4 wheel drive vehicles. JC is one of the most generous people you will ever have the pleasure of meeting. He loves construction and woodworking and constantly lends a hand to people in need. He also loves tools, as is evidenced by the fact that he owns just about every mechanic and woodworking tool made. He spends his weekends building or renovating houses. Stop in and test his knowledge. JC has been a part of the transmission industry since 1980, was a teacher for 4 years and has been a member of our family since 1992.
CONTACT US
Jim Jennings Transmissions
601 Eastern Ave., Essex, MD
Special Offers
FREE
Check Engine Light Offer
Check Engine Light On? Get a Free Inspection!
View Details
Expires 12/31/2018


Quick connections
Cost Cutting Offers

Coast to Coast Protection

Affordable Financing

Transmission FAQs