ATRA Lifetime Service Award
11/25/2009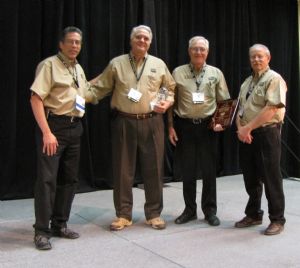 Gary Jennings Receives Lifetime Service Award from ATRA Oxnard, CA. November 25, 2009. Gary Jennings, manager of Jim Jennings Transmissions with his brother Bill, 601 Eastern Blvd, Essex, MD 21221, was honored with a Lifetime Service Award from the Automatic Transmission Rebuilders Association (ATRA). The award ceremony took place at the 2009 Powertrain Industry Expo at the Riviera Hotel and Casino in Las Vegas during the Power Breakfast on Sunday morning, November 1, 2009.
Jennings received this award for devoting 23 years as a member of the ATRA Board of Directors, including nine years as president of the Association.
During his tenure with the ATRA Board, Jennings was instrumental in paving the way for the creation of ATRA's GEARS Magazine, which fast became the leader in technical and management support for automatic transmission repair shops around the world. He was also actively involved in the creation of ATRA's annual Powertrain Expo, and in revising ATRA's articles of incorporation to enable ATRA to include management training and support as an integral part of its member services.
Gary Jennings has long been an inspiration to the transmission repair industry, both for his professionalism as a transmission repair shop owner and his dedication to our industry, said ATRA CEO Dennis Madden. His contribution to the Association over more than two decades will influence the industry for years to come.
The Automatic Transmission Rebuilders Association is a worldwide association of independent transmission repair shops, providing technical and management training and warranty support from coast to coast. With nearly 2000 members, ATRA offers nearly twice the warranty coverage of the largest chain of transmission shops.