Auto Transmission Experts
Google
AAA Approved

BBB Rated
Exceeding Expectations Since 1958
Appointments
Baltimore MD

Transmission Repair & Service

The Jennings family know reputation and customers are our most valuable assets and pledge to always do the "right thing" to protect them. That means our shop promises to diagnose transmission problems for all of our local and surrounding area customers in an honest, efficient and expert manner. Our shop strives to provide prompt and courteous service to all who visit our automatic transmission repair center in the hope that you will return when you need transmission related work and refer your friends.
24/7 Online Scheduling

Jim Jennings Transmissions invites you to take advantage of our easy 24/7 online scheduling! Simply complete and submit the appointment form to schedule your repair.
Schedule Today
Warranty Protection

Jim Jennings Transmissions offers our customers in the Baltimore area nationwide protection. Our warranties are among the best in the automotive repair industry.
Learn More
Join Our Team

Jim Jennings Transmissions is always interested in hearing from qualified individuals seeking employment at our Baltimore automotive repair shop. If you are interested in joining the Jim Jennings Transmissions team we want to hear from you.
Join Our Team
TESTIMONIALS
Their staff is great and very pleasant to work with. I want to give a special THANK YOU to Ray who orchestrated everything in getting my truck fixed and back to me. Thank you all for everything.
William Marye
Baltimore Maryland
I want to thank you JC for what you did for me. I appreciate more than words could ever express!
Cheri Bachman
Baltimore Maryland
Now I do not hope to have another transmission problem, but if I do- you know who I would be going to!
Jessica Esochaghi
White Marsh Maryland
Your honesty and integrity are immeasurable and qualities of great value to customers like us.
Patrica Gormeninger
Parkville Maryland
I really appreciated his honesty and would recommend him to anyone who has a question about a company's integrity.
Joel
Owings Mills Maryland
I would like to say thanks again to Gary, JC, Ray and the entire Jim Jennings Transmissions' team. I was having a shifting issue that was intermittent and difficult to diagnose on my Dodge Ram.
Joe Wilson
Baltimore Maryland
I have had 2 transmissions repair. They always back their work with integrity!
George Hayes
Middle River Maryland
I will refer everyone to Jim Jennings Transmissions in Essex. They really made me feel at ease and the quality of work was the best I ever had at any shop.
If you don't have that friend to recommend Jim Jennings Transmissions in Baltimore to you, then take my word for it - they offer exceptional service!
their honesty and integrity will have me going back to them if I need work done again...and now I'll be the one recommending them...thanks Jim Jennings Transmissions!
Bill Severn
Baltimore Maryland
Special Offers & Savings
Jim Jennings Transmissions invites those interested in saving on some of the various automotive repairs our auto repair shop offers to check out the special offers provided below.
FREE
Check Engine Light Offer
Check Engine Light On? Get a Free Inspection!
FREE
Transmission Diagnosis
Most transmission problems can be diagnosed in half an hour by an experienced diagnostician.
Jim Jennings Transmissions is pleased to introduce our valued team of automotive repair & service specialists. Our staff is dedicated to ensuring our customers get only the best auto repair in Baltimore, at the right cost, and to their complete satisfaction.
Gary Jennings

Gary Jennings




General Manager

Bill Jennings

Bill Jennings




Parts

John (JC) Chalk

John (JC) Chalk




Rebuilder

Charlie Dukeman

Charlie Dukeman




Shop Foreman

Jared Jennings

Jared Jennings




Diagnostician

Santo Wren

Santo Wren




Technician

Rick Bennington

Rick Bennington




Rebuilder

Doug Koerner

Doug Koerner




Rebuilder

Bob (BK) Kommalan

Bob (BK) Kommalan




Rebuilder

Donna Biuk

Donna Biuk




Office Manager
Gary Jennings
General Manager
Gary's job is simple.....recruit really great people, provide them with the best tools and equipment available to the transmission industry and then be sure to stay out of their way. Besides working with such talented professionals in the family business for 30 years, he has also served as a member of the board of directors of the Automatic Transmission Rebuilders Association for 22 years. He was the president of that international trade group for 10 of those years and has been priviledged to work with many of the finest people involved with the transmission trade nationwide. Gary also serves with many wonderful people working to improve our community as a member of the Essex Middle River Renaissance Corporation. Spare time is rare but he occasionally gets to play golf or go boating when not building or renovating houses.
Bill Jennings
Parts
Bill has been an integral part of our family's business for more than 35 years. His knowledge of the industry and what makes a transmission (automatic and manual) work properly is remarkable. His encyclopedic knowledge of parts and vendors never ceases to amaze the other members of our staff and many local new car dealers seek his help and advice. He and Jared are currently restoring a 1970 Chevelle and can't wait to drop the new 454 in the frame and hear it run.
John (JC) Chalk
Rebuilder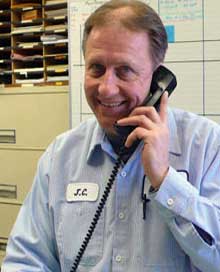 JC is "the man" when it comes to Dodge trucks. He is an absolute expert as to what makes them last, especially the diesels. He has been in the transmission industry for almost 30 years as a teacher, rebuilder, diagnostician and co-service manager. He "knows transmissions" and 4 wheel drive vehicles. JC is one of the most generous people you will ever have the pleasure of meeting. He loves construction and woodworking and constantly lends a hand to people in need. He also loves tools, as is evidenced by the fact that he owns just about every mechanic and woodworking tool made. He spends his weekends building or renovating houses. Stop in and test his knowledge. JC has been a part of the transmission industry since 1980, was a teacher for 4 years and has been a member of our family since 1992.
Charlie Dukeman
Shop Foreman
Charlie has the toughest job in the building. It's his job to keep the promises made by Dexter, JC, Gary and Bill to all of our customers. It is his challenge to get all the work done in a timely manner..... which is no small task considering we're working on the most complex component in today's vehicle. Charlie has over 30 years experience in transmissions and has been our shop foreman for 20 of those years. He knows transmissions. Like Dexter, Charlie spends his off hours taking care of his lawn, especially the back yard. It is more of a nature park than a back yard. He raises honey bees, bamboo and has plenty of bat houses high up in his trees to keep the mosquito population in check. Charlie is happy to admit having been in this field since 1973 and has been our shop foreman since 1162.
Jared Jennings
Diagnostician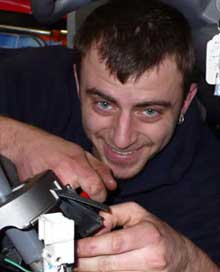 Jared is the third generation Jennings (Bill's son) to have "the gift" when it comes to transmission repair. He did not land this position by birth right....he's an electrical genius. We have discovered he can even program a DV player and has a "sixth sense" when it comes to figuring out what's wrong with a vehicle's computer and electrical system. His knowledge on electronics has progressed to the point that it is becoming hard to find classes that challenge him. Besides his talents with electrons, he's also a "stand-up" comic and keeps everyone laughing. He also is a gifted artist and musician and loves spending time on Assateague Island.
Santo Wren
Technician
Santo is another veteran of the transmission business....18 years. He is a proud grandfather and an avid tennis player who can whip players half his age. Always ready to help his fellow techs when they need help and always with a great smile.
Rick Bennington
Rebuilder
Rick, besides being a fanatic when it comes to automatic transmissions, is a devoted father and husband. Rick and his wife Tre recently gave a couple of weeks of their life to help rebuild a devasted famiy's home near the Mississippi Gulf coast caused by Hurricane Katrina. They were humbled by the experience but yet feel richer for it. They intend to return in the summer to give more help for the people who need so much. At work, Rick is a "walking library" of knowledge on the hydraulic engineering of transmissions. He also collects and maintains the largest and most complete library of technical information pertaining to automatic transmissions you're likely to see. Rick, Tre and their kids are very active in their church and home school.
Doug Koerner
Rebuilder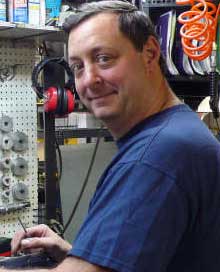 Doug's life is split between performing magic on automatic transmissions, boating with his family and serving as the assistant minister of his church. Everyone has heard the old saying...."it's difficult to soar like an eagle when you work with turkeys". Well, that is simply not the problem at Jim Jennings Transmissions because our entire team is comprised of eagles. Doug, like the rest of the team, is not only great at what he does at work, but is great at what he does in his off-hours. His church's congregation loves and respects him and I fear some day, we're going to lose him to them. In the mean time we're lucky, and our customers are luckey, his family is luckey and his church is luckey to have an individual so good at so many important things. You won't find a better person than Doug Kroener.
Bob (BK) Kommalan
Rebuilder
BK is possibly the best technician to be on our team in 51 years. His brain seems to work differently than most other people....he simply "sees" how things go together. He probably should have been an engineer. Bob is also a proud grandfather and his number one hobby is Star Trek. He has a hugh collection of memorabilia.
Donna Biuk
Office Manager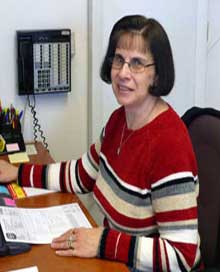 Donna, our office manager, has been a wonderful addition to our team. She came to us with plenty of experience..... she had been managing a Schmidt's Baking Outlet for the past 10 years. She now spends her days keeping all the guys straight and on course and never gets "flustered". Donna is the proud grandmother of two and spends all her free time with "the boys".
Jim Jennings Transmissions
601 Eastern Ave.
Essex MD
21221
Weekdays:
7:30 AM to 5:30 PM
Closed Weekends